Waking up to the pristine blue skies and mountain views makes your day!  Homes with a view in Santa Fe are treasured and only come with a bit of altitude so it is off to the foothills for our best timeless art of ever-changing sunsets and twinkly lights overlooking town.
Call Caroline at 505.577.6774 for more details on the views and to make your reservation.
La Primera
2 Bedrooms | 2 Ensuite Baths
When your no. 1 priority is view, choose La Primera
View Property
Estado de Paz
3 Bedrooms | 2 Baths, Powder Room
Live with the glorious mountain view of the Jemez mountains
View Property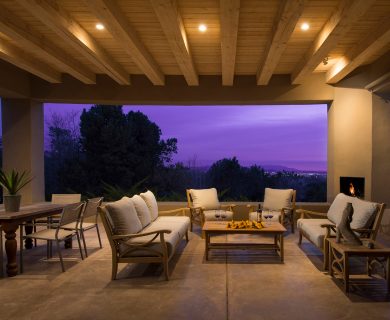 The AQUI Family Vacation Rental Experience
Relax in luxury when you rent a vacation home from Aqui. We will greet you at the front door,  ensure all details are in order for your stay, and offer suggestions for experiences you'll love. Your comfort is a top priority. That's why we provide designer guest amenities of breakfast baskets filled with local gourmet treats, cozy Pratesi robes, luxurious ETRO toiletries, and exquisite freshly pressed Italian bed linens.   
If we can do anything else to make your stay even more memorable or exceptional, simply ask our guest service agents. 
Relaxing in Style
Our large vacation rentals will make you feel at home amidst the exotic and historic appeal of Santa Fe. Book now to experience the 'City Different' from your luxurious and stylish 'home away from home' family vacation rental in Santa Fe!
Kick back and relax in your rental home's comfortable living room between visits to Santa Fe's amazing museums. Your kids will love the Santa Fe Children's Museum and who wouldn't be enchanted by experiencing art from the inside at Meow Wolf?
Enjoy day trips to the Bandelier National Monument, El Rancho de las Golondrinas living history museum, or along the Atalaya Hiking Trail. Your family might also enjoy a trail ride or a historic stagecoach ride.
And don't forget to experience Santa Fe's historic Plaza in the heart of Santa Fe. This iconic space has been hosting markets and other events for over 400 years! It's a great place to meet and mingle with the friendly residents of this hospitable city.