As a diverse city that's rich in Spanish, Native American and European history, the cooler weather makes Fall 2021 in Santa Fe one of the best times to visit this part of New Mexico. With day trips to enjoy the fall colors along the Rio Grande, artist tours on the high road to Taos, and dining at world-class restaurants, Santa Fe is a melting pot of things to do this fall. Read on to learn about some popular seasonal events and Fall attractions Santa Fe and surrounding areas have that draw vacationers from all over the world.
EVENTS TO CHECK OUT
The Albuquerque International Balloon Fiesta
October 2-10, 2021
https://balloonfiesta.com/
Watch over 500 hot air balloons soar the sky during this annual festival that's about a 50-minute drive from Santa Fe.
Santa Fe Indigenous Peoples Day Weekend Celebration
October 9 – 10, 2021
https://www.santafe.org/indigenouspeoplesday/
Head to Santa Fe Plaza to take part in this cultural event that honors indigenous people throughout New Mexico.
Spirits of New Mexico's Past
October 23, 2021
https://golondrinas.org/festivals/spirits-of-new-mexicos-past/
Visit El Rancho de las Golondrinas for a spooky experience that includes learning about historic ghosts from the Land of Enchantment.
THINGS TO DO
The Valles Caldera National Preserve
The Valles Caldera Nation Preserve was a private ranch until 2000, when Congress created it from a well-known ranch known as "the Baca Ranch" in New Mexico's volcanic Jemez Mountain Range. This 89,000 acre property is situated inside a collapsed crater. Studded with eruptive domes and featuring Redondo Peak (11,254 feet), this old ranch property is now being developed to explore a new way of managing public lands. The preserve is open to the public but we guarantee you'll find the visit unlike any other you've had in a park or national forest. We keep the numbers of visitors small for any activity so you'll feel like you have the place to yourself. We offer a chance to get out and really experience a sense of solitude that we hope will leave you refreshed and relaxed. You'll see wildlife, beautiful vistas and learn about the preserve's rich history and geology.  Hiking, Mountain Biking, Photo Adventure, Run The Caldera, Tours, Moonlight Cross Country Skiing and Snowshoeing, Sleigh and Wagon Rides. NM Hwy 4, mile marker 39 (Hwy 285 north towards Bandelier ) https://www.nps.gov/vall/index.htm & 866.382.5537
Santa Fe Jeep Tours

Santa Fe Jeep Tours takes you off the beaten path. Bringing you to the amazing desert and wilderness views of Santa Fe and the surrounding areas.  Experience the rugged beauty of the New Mexico landscape and think about the Diablo Canyon Moonlight Tour! https://santafejeeptours.com/ & 505.428.9126
Ski Santa Fe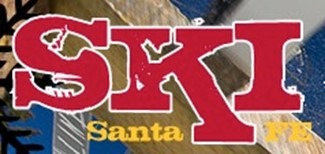 Ski Santa Fe has a base area elevation of 10,350 Ft and is the beginning of a ski experience you will never forget.  Seven lifts serve the daily groomed mountain, snowboard, and ski packages, Chipmunk Corner Classes, Little Chips Ski Program, Snow Play, Nursery & Daycare….all make your ski time totally enjoyable. 1/2 hour drive. Washington Ave-Artist's Road-Hyde Pk Road.  skisantafe.com & 505.995.9858
Santa Fe Rafting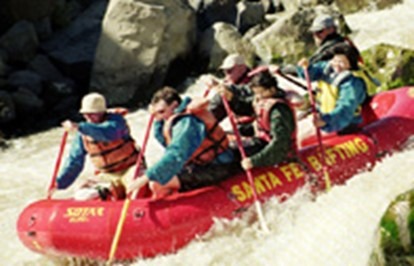 Santa Fe Rafting providing unforgettable rafting trips since 1987.  The Racecourse: A 1/2 day trip on the Rio Grande River offering fun for the entire family. This is the location of the annual "Mothers Day Whitewater Races", one of the oldest river races in the USA, started by a Boy Scout troop in Los Alamos about 35 years ago. You will boat over "Albert Falls", through "the Narrows", past "Big Rock", and at high water, you will confront the awesome wave at "Souse Hole". Day trips on the Rio Grande, Taos Box, Float Trips, great fun for family and friends. santaferafting.com 505.988.4914
Bandelier National Monument

The Bandelier National Monument protects over 33,000 acres of rugged but beautiful canyon and mesa country as well as evidence of a human presence here going back over 11,000 years.  Petroglyphs, dwellings carved into the soft rock cliffs, and standing masonry walls pay tribute to the early days of a culture that still survives in the surrounding communities.  Walk amongst the ruins and up to the hills of cliff dwellings with a restful walk down through the Ponderosa. Visitors are required to take a shuttle bus from White Rock visitor center to access Bandelier. Hours 9-3pm.  Shuttles run apx. every 20-30 minutes. Hwy 285 north, Los Alamos turnoff, Hwy 502 to White Rock. https://www.nps.gov/band/index.htm & 505.572.3861×517
Pecos National Historical Park.

In the midst of piñon, juniper, and ponderosa pine woodlands in the Sangre de Cristo Mountains not far from Santa Fe, the remains of an Indian pueblo stand as a meaningful reminder of a people who once prevailed here. Now a national historical park, it demonstrates the cultural exchange and geographic facets central to the rich history of the Pecos Valley. Hwy I-25 north to exit 299 ,  Pecos village, south 2 miles on St Rd 63 https://www.nps.gov/peco/planyourvisit/hours.htm & 505.757.7200
Plan A Long-Term Stay at one of Aqui Santa Fe Properties
With so many Fall Attractions Santa Fe has to offer, consider a long-term stay that'll give you more time to explore New Mexico while relaxing in luxury. Aqui Santa Fe suggests a special collection of fall trips and events in the "Silent Concierge", a custom sourcebook.  Call Caroline for your reservation and she can send you chapters from the book.
Whether you're going to spend Fall 2021 in Santa Fe or decide to visit in a year, contact us today to learn more about long-term stays at Aqui Santa Fe's premier vacation rentals.