There is a rich history of Native American culture in New Mexico, especially in Santa Fe. This history is celebrated every year at the Southwestern Association of American Indian Art's (SWAIA's) Santa Fe Indian Market, a two-day event that is free and open to the public. It takes place on the third weeke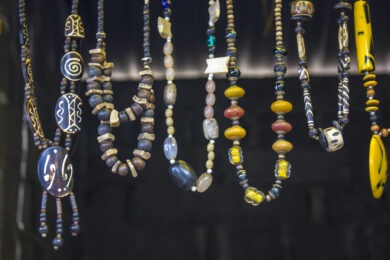 nd in August, putting this year's market on Saturday, August 19th, and Sunday, August 20th. This year marks the 100th market, so if you've never gone before, now is the perfect time to experience all it has to offer!
With humble beginnings over a century ago in 1922, the Santa Fe Indian market has steadily grown into the world's largest juried Native American art show and one of the city's most iconic and popular events. It connects Native and non-Native worlds and features over 3,500 works from over 600 artists, and draws around 100,000 people every year. There is also a Best of Show awards ceremony to celebrate the works and careers of along with a variety of other events happening across Santa Fe and leading up to the market itself.
There's a lot to see and do, so here are our picks to make the most of your visit!
#1: Admire the art
No visit to the Santa Fe Indian Market is complete without spending at least a few hours strolling through the plaza and admiring the wide variety of art that Native artists from a long l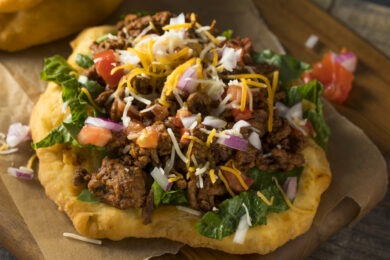 ineage of traditional teachings have brought to showcase and sell. You'll find pottery, textiles, baskets, paintings, beadwork, silverwork, and much more. Artists represent more than 250 different Nations from the US and Canada, and their works adhere to centuries of tradition, so you can expect authentic and high-quality pieces. We're sure you'll find something you want to purchase to take home with you and keep as a reminder of your visit.
#2: The Food
You'll probably build up an appetite walking around the plaza, so be sure to stop by one of the Native American food vendors and grab a bite to eat. From Navajo tacos to fry bread, you can find a variety of delicious and authentic cuisine indigenous cuisine. While not a traditional staple of Native American food, Frito pie is a market staple that reflects New Mexico's blend of native, Mexican, and Southwest cultures.
#3: Enjoy live music and other performances
Over the course of the weekend, there will be a variety of live music, dances, storytelling, and comedy shared by Native American performers on the plaza and Cathedral Walk from 9 AM through 5 PM. The lineup of indigenous performers at the 2023 market includes Artificial Red, Cloud Eagle, Charly Lowry, Tony Duncan & Family, Adrian Wall Trio, Lakota Johnson, Kings Island Dancers, Sage Cornelius, and more.
#4: Watch the Native American Clothing Contest
The Native American Clothing content is a market favorite and will take place on Sunday from 9 AM – 1 PM this year. The contest includes men, women, and children who show off their different styles and designs of garments, many of which are handmade traditional regalia and clothing from their nation. It's free to the public and a great break from perusing the art.
#5: See the latest fashion trends at the Indigenous Fashion Show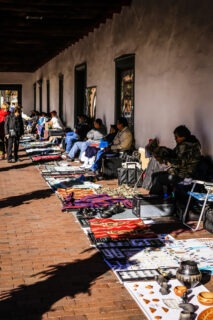 Taking place at the Santa Fe Community Convention Center Ballroom on Sunday from 3 – 4 PM, the Indigenous Fashion Show showcases the latest in innovative indigenous fashion designs from several premier designers. There are a few different ticket options available at different prices so you can find one that works with your budget.
If you're coming to experience everything the 2023 Santa Fe Indian Market has to offer, Aqui Santa Fe can help ensure you have an unforgettable time. We have several enchanting and bespoke vacation homes for rent that offer a blend of sophistication and southwestern charm and make your experience our numb one priority. Stay with us, and we guarantee you'll love your time in the Land of Enchantment.